#Learning the TikTok Lingo
TikTok: Version 24.4.3 
 There are plenty of tools TikTok has for users to make it an easy-to-use creative space. You want to be kept in the loop and ahead of the game!
Here are all the tips and tricks you need to know to be a TikTok savvy.
Algorithm: The algorithm gives each user a personalized watching experience on the app. Having a highly intelligent tool, TikTok is paying attention to what each user is interested in to filter what to show on their For You Page.
The algorithm will base its audience to your video on many details. The sound you are using, a topic you're talking about, or something it sees in the video. There are many objectives to help the algorithm decide who would be best suited to engage with that specific TikTok.
For You Page: The For You Page is the first page you see when you open the TikTok app. These are videos your algorithm picked for you based on what it thinks you may be interested in. How you react to these videos will help TikTok decide what to show you next. You may see trending videos, videos with little interaction, or things you have an interest in. This is TikTok's way of getting to know you. "For You Page" is often abbreviated to FYP.   
Search bar: TikTok's search bar is extremely resourceful.  You can search anything related to what you are looking for and you are likely find the video, sound, or person you searched! 
Hashtags: Hashtag anything and everything, keeping it relevant to what your video or business is about. Hashtags are similar to a file box, users can search for hashtags and even "Favorite" them. What does this mean for your business? If someone is interested in a topic you hash-tagged they are more likely to have your video show on their feed. Your video with a users interest showing on their feed = more engagement for your business.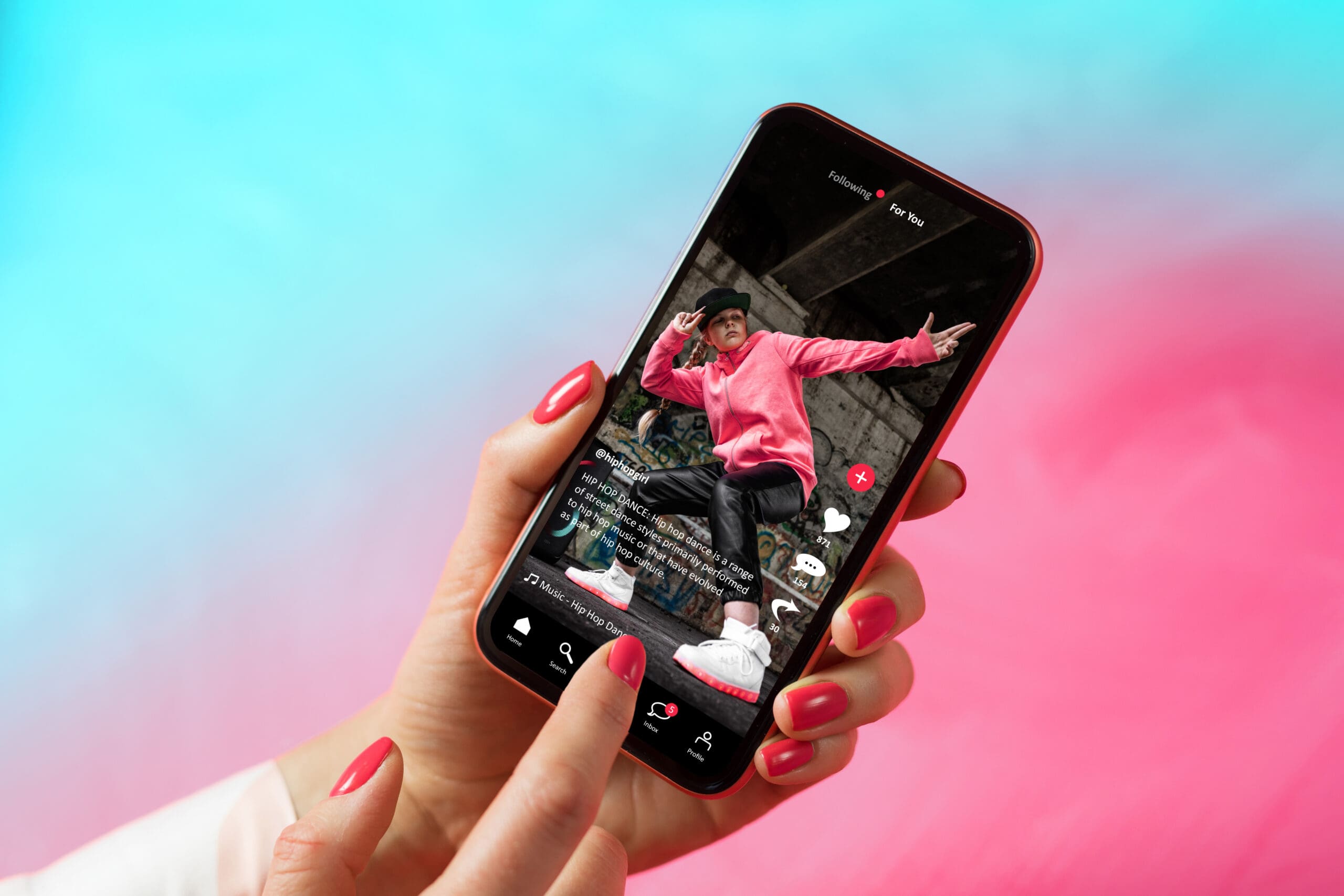 Stitch: Stitch is a tool used as a response to a video. This allows you to take a snippet of a video by another user or yourself and incorporate it into your video. The video you stitch will be the start of the TikTok you're making, followed by the video you make. To use Stitch, find a video you want to respond to. Click the arrow button on the right hand side of the video, on the bottom line of the share page you will see the "Stich" button.
Duet: Duet is used mostly to give a reaction to another video. There are different layouts to choose from, which can be picked based on your preference.  Most duets are silent, letting the sound from the original video play. However if you would like to be talking just be sure to turn your mic on, this can be done on the left-hand side of your screen.  The Duet button can be found in the same area as a Stitch.  
Sharing: After posting your TikTok, you can post it to many different platforms with the click of a button. A bonus with sharing straight from your video is that it attaches a link to the video. When you share, viewers can click the link and view your TikTok making the interaction on your page higher.  
Drafts: Drafts are a place to store incomplete TikTok's or videos you are waiting to upload.  The only default with storing your potential uploads here is if you log out, or someone logs into your account, all drafts will be deleted.  
Collection: You can organize your saved videos and sounds into collections. When you save a video a pop-up will appear at the bottom of your screen. By clicking "manage" you can organize your videos into different folders for easier access.
Saving Videos: See something you like? A new trend you want to try? Saving videos are a perfect tool for you! This allows you to save it for later and reference it when needed. To save a video, click the bookmark icon under the comment button. To find the video you have added to your favorites, go to your profile by clicking "profile" in the bottom right corner. There, you will see the same bookmark icon, click that to see all of your saved videos.  
 Saving Sounds: If you find a sound you'd like to use later or use multiple times, an easy way to locate it is by saving it! This can be done by clicking the circle record in the bottom right corner of a video. This will take you to a page filled with videos that used this sound. Near the top of the screen, you will see "Add to Favorites"  
Click that and you're done! To use the sound from your favorites you can click "post". At the top, you will see "Add Sound",  then " Favorites". Click on the sound you'd like to use, then click the red check mark and you're ready to film!
Getting familiar with the many tools TikTok offers is extremely important for your success on the app. It allows for more creativity. Giving you and your audience an enjoyable experience on TikTok. 
Want to learn more about having your business on TikTok? Contact me now!